---

Old & expired film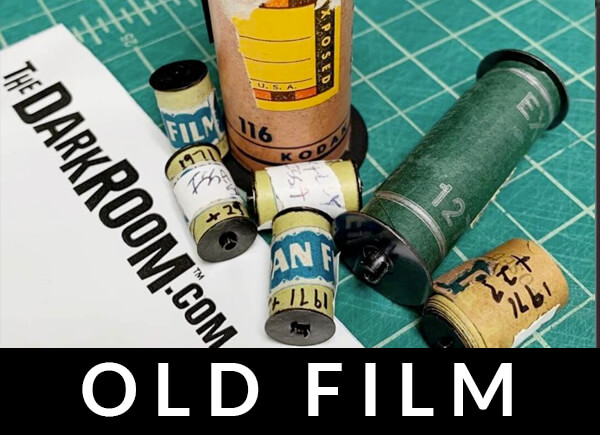 With over 45 years of developing film, The Darkroom will professionally develop your old film and color, contrast and density adjust every frame
With over 4,672 in the United States*, Walmart Photo Centers received the most responses from our social media poll and has at least twice as many searches online then the next most popular photo lab, which is 
Costco Photo Centers
.

In TopTenReviews, Walmart's Photo Center ranked 6th overall, but their print quality received the lowest ratings among the featured Top 10 Photo Centers. Common feedback with our social media poll also reported poor quality and the long turnaround, but Walmart has the best price for developing film (as low as $7.95), but everyone could've already guessed that. Something to be mindful of when using Walmart for film developing is that it doesn't return film. Learn more about why Walmart doesn't return film.

Walmart has Kiosks for printing digital photos. For film developing, because Walmart sends film out and their photo center is generally unmanned, users have to fill out a film processing envelop and drop in a dropbox.
PROS – Because most towns has a local Walmart, they're convenient to use for prints and film developing. Walmart has one of the lowest prices for developing film, about $7.49 for a 12 exposure roll, images on a CD and a single set of prints. Just $2 more for an extra set of prints. While nearly all locations don't return negatives, Jacob M of Shreveport Louisiana reported that Walmart returns the negatives and there are likely others.
CONS –  For Film Developing, Walmart doesn't return the negatives, and as Jake from Texas puts it "The negatives are the point!".  A common complaint was quality, both in scanning and printing and very long turnaround times. See experts below for examples.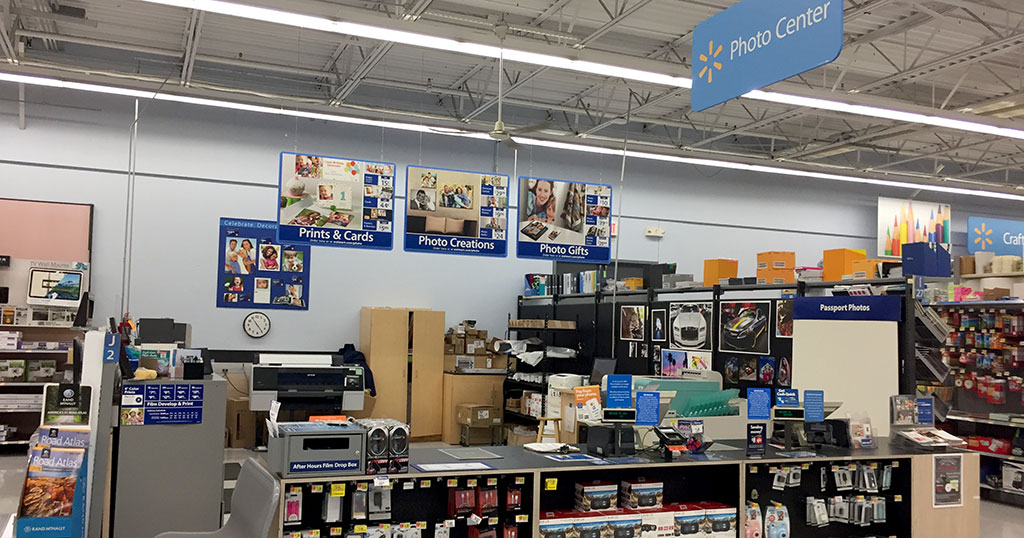 While nearly every town has a Walmart, their Photo Centers are typically unmanned. Be prepared to track down a person if you need help.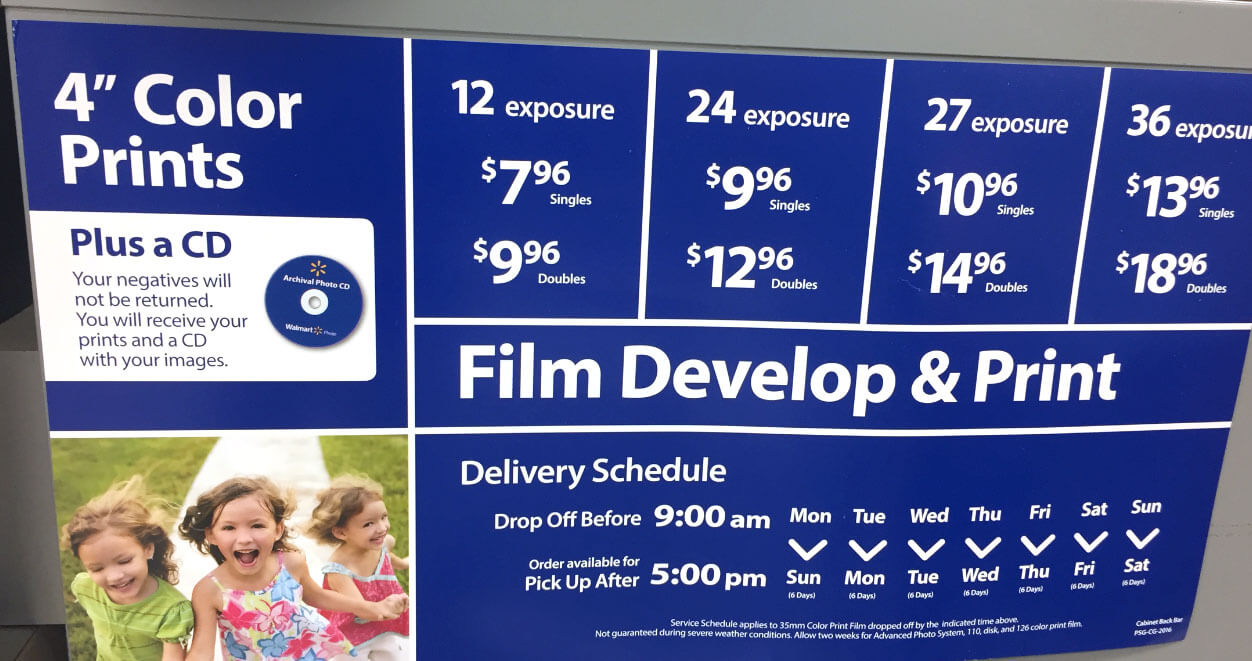 Excerpts from users
Some were edited for readability, some grammar and brevity. 
Price
John Lawrence – I sent to Walmart in Pasadena Texas a few times. Only thing I didn't like is they don't return your negatives and they now print on matte paper instead of Glossy. For the price they charge now, it's cheaper to use mail order.
@Jakegonz – The Walmart in my area sends it out somewhere, it takes a week to get back, the quality isn't great but they are cheap, so the only time I use them is when I have purchased an old camera and am seeing if it works.
@snugglepaw – I looked around a year ago for somewhere to process my point and shoot, the cheapest was Walmart after asking everyone if they still processed film in store and none did. So I sent my film out and walmart gave me a disc with horrible quality jpegs. The printouts had a sandpaper like quality paper. No negatives returned.
Film and Film Developing
Jacob M – Shreveport, Louisiana's local Walmart returned negatives but it takes at least 2-3 weeks to get pictures back and lacked customer service.
@srvienna   Went to drop off at Walmart in Monterey, CA two years ago. They told me I wouldn't get my negatives back. I use a local lab for all regular c-41 and B&W
JR Butler –  In Southern Ohio, around Hillsboro and Chillicothe, our Walmart does develop, but they send it away and keep your negatives. An hour away in Cincinnati, I use Dodd Camera who develops film. They have their own machines in Cleveland, so they have film trucks carry film from Cincy, Dayton, Columbus and Chicago to be developed in Cleveland. They do a fair job, and are $7.49 a roll for develop and CD. However, scratched slides are far too common an occurrence, and torn emulsion in negatives happens occasionally, too.
@christianartjocson –  The Walmarts and targets stopped doing this in 2015 in my area (Stockton, CA)
@digital_defector – All Walmarts in Canada stopped developing film in 2015.
Quality
John Robert M – I processed at a local Walmart who still had one hour in my area. It was expired film and I thought the color shift was normal until I took a close look at my negatives a few years ago and found that there was no green shift on the Negatives so they not only poorly cut the negatives (some had a very small part of the image cut off), but they poorly scanned them.
Ricardo Coto from Antelope California – My experience with Walmart's Photo Center is that the pictures didn't have the feel they should  and they're choppy. They also don't even give you back the negatives. Even the scans were awful.
Customer Service
Rafael S from Orlando FL –  All stores that I've been to have an unstaffed "photo lab" where you fill out an envelope, drop it in a box and come back when your photos are ready.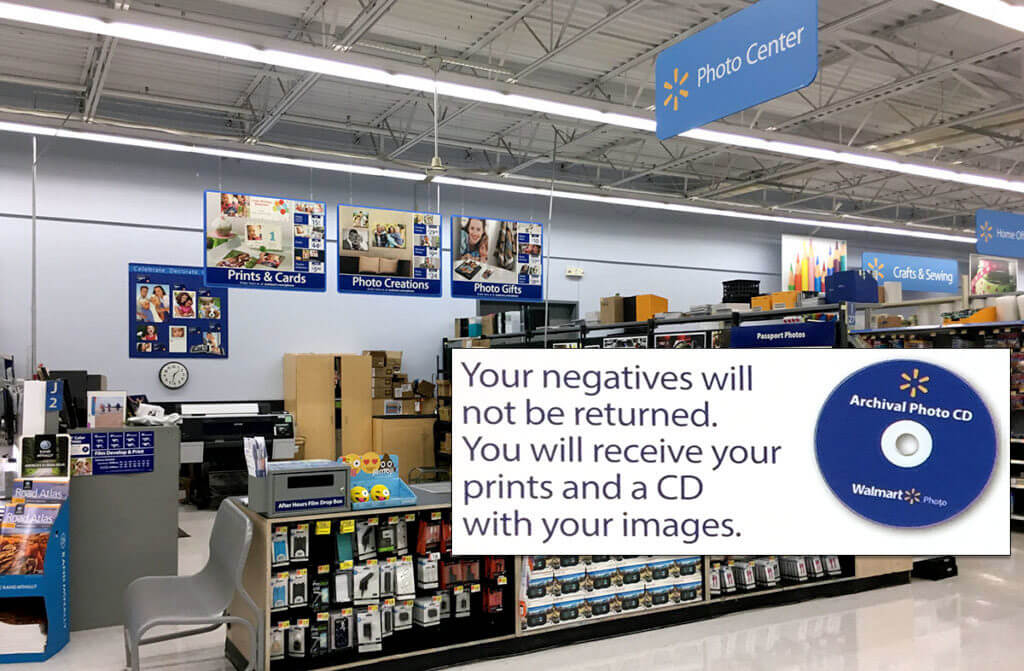 ---
Deleted:
| Retail Photo Labs | Film Developing | Return Negatives | Hi-Res Scans |
| --- | --- | --- | --- |
| Click for more on Walmart Photo Lab | | | |
| Click for more on Costco Photo Lab | | | |
| Click for more on Sam's Club Photo Lab | | | |
| Click for more on Target Photo Labs | | | |
| Click for more on CVS Photo Center | | | |
| Click for more on Walgreens Photo Lab | | | |
Walmart Photo Lab | Costco Photo Lab | Sam's Club Photo Lab | Target Photo Labs | CVS Photo Center | Walgreens Photo Lab
Have an update or something to contribute? Please let us know!
---