For as low as $2
50
each ($20 minimum order), we scan your
film negatives
or
slides
 and
upload them
for convenient web download. We can
print your photos in a variety of sizes
(4×6, 5×7, 8×10, 11×14, and 12×18) and even apply your images to photo gifts, such as canvas prints, acrylic prints, bamboo blocks, and aluminum art.
Standard film formats for scans and prints
35mm negatives or slides, 126, APS, 110 and 120 Format Film.
Nonstandard film formats will have an additional charge of $7.00 per frame.  We cannot scan photographic prints.
Enhanced or Super, we scan your film negatives or slides in one of 2 scan sizes:
Enhanced scans are made for creating prints up to 11×14 inches, and have a file size of 12MB-18MB. These are ideal for printing small posters or quality photo brochures.
Super scanning is our large output option. These professional resolution scans have a file size of 48.8MB-87MB, and are perfect for advertising, giant prints or large posters.
---
Film and slide scan prices. From standard film formats.
| Enhanced Scans Including Prints | Color | True B/W |
| --- | --- | --- |
| 4″x Prints | $3.50 | $5 |
| 5″x Prints | $6 | $9 |
| 8″x Prints | $12 | $20 |
| 11″x Prints | $20 | $25 |
| 12″x Prints | $25 | $35 |
| Upgrade to Super Scans (Addl. Per Image) | $4 | $4 |
| Scans Only (No Prints) | Price |
| --- | --- |
| Enhanced Scans | $2.50 |
| Super Scans | $6 |
Learn more about file sizes and resolution of scanned negatives or slides.
---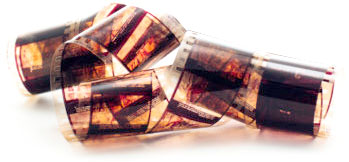 Options for uncut rolls of film in good condition
Get a better value when printing and scanning all frames of uncut rolls of 35mm, 120 & APS.
Use our general film developing form.
---
The Darkroom allows you to scan negatives or convert slides to digital, which is the best method for saving your images and printing them in any size you might want.
The Darkroom can create scans, reprints and enlargements from your 35mm, APS/Advantix, 110 and 120 Format Film. This includes Color, B&W and Slide Film. We utilize high-resolution scanners to ensure the best quality images to our customers, and to create better results than one could typically achieve from scanning film at home.
Our film scanning service is perfect for those with old rolls of film, negatives or "found film." Found film refers to old undeveloped film rolls or negatives that you have found in a drawer or the attic. These mystery time capsules can potentially have huge sentimental value, and you can trust those memories with us.