Is your choice of B&W film like your breakfast cereal? Do you have your trusted go-to film without considering other options?
When it comes to shooting black and white, we tend to choose a trusted brand and film stock. It's probably one that you have been shooting with for some time, and love the way it looks. But it is also worth considering looking at something new. We recently tried out the six Lomography B&W films and decided to provide you with a side-by-side comparison.

We broke down the six Lomography B&W films into matching pairs so that we could accurately compare them in both photos and descriptions. In this article, we take a look at Lomography's two 400 ISO film stocks and two 100 ISO options. Plus, we showcase the outcomes from shooting with the two Lomography super low ISO B&W films. These last two, in particular, are fascinating to work with, and the results speak for themselves.
---
Lady Grey 400 vs. Berlin Kino 400
Kicking off with the Lomography 400 films, we have Lady Grey and Berlin Kino. Lady Grey 400 is Lomography's most popular B&W film stock and delivers beautiful results. Lady Grey has strong contrast and bold tones, as a result, it gives more punch than the Berlin Kino. Plus, Lady Grey by Lomography relatively fine grain – especially for a 400 ISO film.
The Berlin Kino is named and inspired by the film look from Germany's 1960s cinema era. It delivers a lot less contrast and a finer range of tones with more detail in highlights and shadows – especially when compared to the Lady Grey. As for these two gorgeous films' best uses, we found that the Lady Grey 400 is better suited for even light and low contrast scenes. The Lomography Berlin Kino 400 is far better suited to bright sunny days or high contrast lighting to make the most of the flatter tones.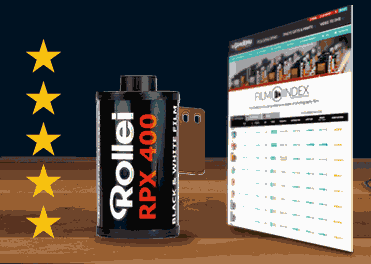 What's the Best Film?
The most comprehensive index of film types; characteristics, examples, and reviews.
We compare the Lady Grey to Kodak's Tri-X and the Berlin Kino to Ilford's Delta 400 in that respect. The Berlin, like the Delta 400, is better on brighter days to capture the detail without gaining excess contrast. And vice-versa with Lady Grey and Tri-X. When it comes to shooting various genres, it all comes down to your preference really, both can perform well for all types of photography, it just depends on if you want a stronger contrast and punchy tones or mild contrast and more subtle tones.
Earl Grey 100 vs. Potsdam Kino 100
Earl Gray 100 resembles Lady Grey 400 but with much finer grain which makes it ideal for shooting on bright sunny days.  When you look at Earl Grey 100 & Potsdam 100 side by side, they're almost identical – the only noticeable difference is Potsdam 100 has slightly finer grain and does better in tonal transitions from bright highlights to dark shadows.
As we step down in ISO to 100, we find ourselves using two popular Lomography films, the Earl Grey 100 and Potsdam Kino 100. When looking at the films side-by-side, at first, you don't notice much difference. It's only when you compare the grain and tonality of each stock that things become more evident.
Similar to Lady Grey, Earl Grey shoots well in outdoor conditions where there is plenty of light. However, when compared to Potsdam 100, you'll find the transitions between the mid-tones, highlights, and shadows are better. As a result, your images will appear in more detail. Potsdam 100 appears to present whites with better clarity. Often you'll find Earl Grey (like the tea) becomes a little more cloudy or muddy within highlight and white areas. You can, of course, use this feature to your benefit if you are opting to photograph more of a flat tonal range.
If you are looking for fine detail, you might want to choose Potsdam Kino 100, which has sharper grain, but we feel Earl Grey is the most versatile. Overall, it's hard to go wrong with either of them.
Babylon 13 iso vs. Fantome 8 iso
While they are not as common, you can also get sub-100 ISO B&W film stock. We are not talking about 80 ISO or even 50 ISO – we are going lower than that. And what's more, Lomography has two of the best with the Babylon 13 ISO & Fantome 8 ISO. These are both from Lomography's Kino range with cine film qualities. But it's important to know that you need to take some precautions with these films. Unless you have ideal lighting conditions, you need to use a fast aperture lens and possibly even a tripod to optimize the outcomes. All of these were shot with either a 40mm f/1.4 or 135mm f/1.8 which allowed for handheld shooting.
The Babylon 13 delivers an excellent, even tonal range that's ideal for capturing detail in shadows and highlights. The low contrast of Babylon 13 captures fine detail very well, making it preferred over the Fantome for portraits. Overall, Babylon 13 is the more versatile and is the best choice for landscapes, street scenes, and high contrast scenes.
But that is not to say that the Fantome 8 is not without its charm. The Lomography Fantome 8 B&W film stock has one of the lowest ISOs available. As a result, in the right lighting conditions, it delivers gorgeous contrast without much grain at all. Plus, the depth of contrast gives extra punch to artistic shots where you want to hide your crimes in the shadow. Unless you wanted a silhouette look, avoid the Fantome for portraits. Fantome 8 is ideal for very even light since its high contrast will bring a dull scene to life.
---
Final Thoughts On Lomography B&W Film
As discovered, the Lomography B&W film range has a lot to offer when it comes to having a choice over ISO and the outcomes of your images. Regardless of shooting with a Lomography B&W 400, 100, or something like the ultra-low Fantome 8, you are in for a treat. They each have unique characteristics and are worth considering the next time you are browsing for film stock. Before you load up your cart with Kodak, Ilford, or Fujifilm, take a shot at some of the Lomography B&W stock and stretch your creativity. 
| Feature | Lady Grey 400 | Berlin Kino 400 | Earl Grey 100 | Potsdam Kino 100 | Babylon 13 ISO | Fantome 8 ISO |
| --- | --- | --- | --- | --- | --- | --- |
| Available in 35mm 36 exp. | | | | | | |
| Available in 120 | | | | | | |
| Amount of Contrast | HIGH | LOW | HIGH | HIGH | LOW | HIGH |
| Amount of Grain | FINE | MEDIUM | MEDIUM | FINE | FINE | FINE |
| B&W Processing | | | | | | |
| Reviews | Lady Grey | Berlin Kino | Earl Grey | Potsdam Kino | Babylon 13 | Fantome 8 |
---
Print Comparison on Ilford B&W Silver Gelatin Paper.