That's wasn't real question, we just made it up. It usually appears cold to us up there in Canada. In fact, here in California, we turn our furnace on when it drops below 60 degrees. That's Fahrenheit by the way. We get confused by your Celsius temps.
Yes, we can ship to our Northern friends. You will need to apply the correct postage because our prepaid mailers only work in the U.S. Then select the Canada shipping for return shipping. Your package will arrive back via US Mail / Canada Post.  FedEx is also an option for return shipping if you order online.
You can use this label on your package to send to us.  You will need to check with Canada Post to determine the proper postage rate.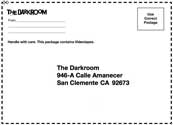 Use for international shipping or large packages