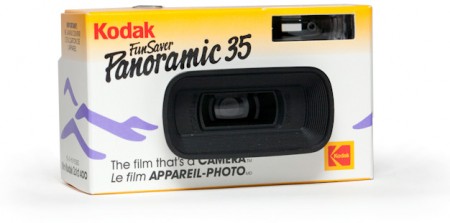 Photographer Deon Reynold's has been using, or more accurately re-using Kodak "Fun Saver Panoramic 35″ disposable cameras for his photography since 1994. These cameras were available at grocery stores for about $10, but since Kodak quit making them in 1999, they're becoming more difficult to find. As a collector of the panoramic cameras, Deon saves his worn out cameras and uses the parts from one and make another work.
Reusing these cameras can be rewarding and give you stunning landscapes. Each panoramic camera is good for a couple hundred rolls, but will eventually wear out. Typically their shutters will fail. If you find or have one of these cameras, you can take off the paper case and keep loading it up with Kodak TX-135-36 film.
Deon Reynold is a professional photographer living in Nevada. deonreynolds.com
---
With over 40 years of developing, you can trust
The Darkroom with processing film of your disposable camera.
Disposable Camera Developing
---
Below are some of Deon's panoramic images taken with a reused Fun Saver Panoramic 35.