A guide to cameral focal length and tips on getting the best results

The focal length you choose to shoot not only affects the look, but the feel and approach of your photography.   To show you the difference, we borrowed three Nikkor lenses from our friends at KEH –a wide-angle 24mm, standard 50mm, and a telephoto 105mm. 
---
Wide-angle
35mm and below is considered wide-angle, with anything below 24mm being extreme wide-angle. For this comparison, we chose the 24mm to represent the wide-angle category because it's a good in-between that's wide but not too wide.
The shorter the focal length, the wider your angle of view will be–meaning you will be able to fit much more in your frame.  You will have less magnification, but more depth of field. Higher depth field means that more of your scene will be in focus, but the wider your lens is, the less compression you'll have.  This means that the background will seem much further away, especially when you have a close subject. It also means it will be harder to isolate your subject using a shallow depth of field. Wide-angle lenses are ideal for small/tight locations because they will allow you to fit a lot in the frame and can make a small space seem much bigger than it really is.  The wider your lens, the more distortion you will have which isn't typically ideal for portraiture, especially when it's close up. 
Standard/Normal
"Normal" basically encompasses anything between 40mm and 60mm. The most common focal length in this range is the 50mm, which is why we selected it for this blog.
The 50mm focal length is a great in-between–a happy medium of depth of field, compression, and distortion. Depending on the max aperture and how close you are to your subject you can create a very shallow depth of field with relatively low compression and little (if any) distortion.  Since the 50mm focal length is the most common focal length for film cameras, it's usually the most affordable and available. In addition, 50mm lenses usually have a very fast aperture–most commonly f/2 or faster.  A fast/big aperture gives you the ability to shoot in very low light, making it great for indoor or concert photography.  The capability of a very shallow depth of field, makes it ideal for portraiture since it will isolate your subject from the background. 
Telephoto
Essentially, anything above 60mm is going to be considered telephoto. In this case, we went with the Nikkor 105mm f/2.5.  The longer the focal length, the narrower the angle of view, which means you'll have much more magnification.  Telephoto lenses have much more compression, which will make the background look a lot closer. Depending on how close your subject is you can have a very shallow depth of field as well.  Telephoto lenses are great for portraiture, sports, and wildlife photography. 
The Darkroom Swag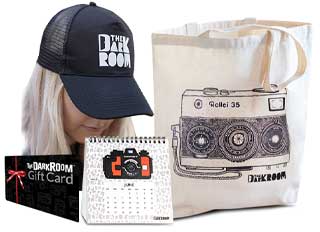 Display the stoke with our shirts, hats, totes, gift cards, and more.

Get swagged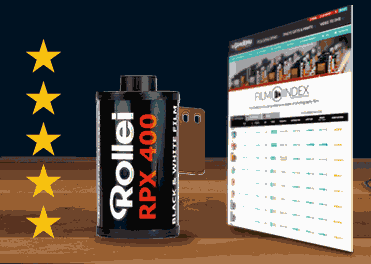 What's the Best Film?
The most comprehensive index of film types; characteristics, examples, and reviews.

View Index